Refinancing your home allows you to take advantage of better rates and save money.  Here at Coastlend Mortgage we offer our clients both Cash-Out Refinances and No Cash-Out Refinances.
There are many factors that come into play when deciding to refinance. Is it the right time? Are rates low? How long do you plan to live in that home? Refinancing does depend upon each individual's current situation but here are some pointers on whether or not it's time to refinance.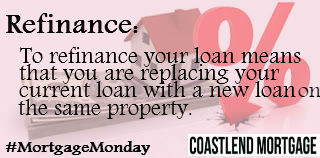 You can recoup the cost of doing your refinance within two years. If you are able to do that then it is a sign of a good refinance.
How high is your rate? Traditional wisdom states you should lower your rate by 1%. However, that does not apply when there's no closing costs. If you can lower your rate by .5% with no closing costs and save money, then it makes sense.
Your economic situation is also a major factor. If you've lost your job or moved to a one-income household, it would be best to refinance. This could be a great option to lower your payment and/or ease your financial struggles.
If you need cash pronto, cash out refinance is the answer. This is when you turn your equity into cash. You can use it for a multitude of new things. Such as, paying college tuition, starting a business, buying an investment property, etc.
So, is the time right for you? If it is, let us help you!
Apply Today or Call Coastlend Mortgage at 843-388-5763.